Ultimate E.F.A.
Dietary Supplement

Dr Wallach:
Ultimate Essential Fatty Acid (E.F.A.) is a blend of Flax Seed oil and Borage oil. This is a vegetarian friendly product and is 100% organic.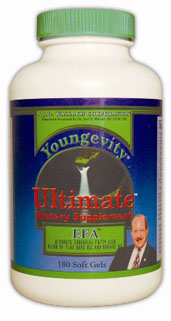 For best results, we suggest using this product as part of a full nutritional program, that also includes Majestic Earth, Majestic Earth Ultimate or Ultimate Daily.

Ultimate EFA™ is a 100% organic blend of flax seed oil and borage oil. This product is a must-have for those concerned about maintaining health in an organic way. Consumption of Omega-3 fatty acids may reduce the risk of coronary heart disease. The FDA has evaluated the data and determined that,
although there is scientific evidence supporting the claim, the evidence is not conclusive. Ultimate EFA™ should be used as part of a complete nutritional program.

Promotes optimal health and well-being
Supports healthy heart function
Supports cardiovascular health*
Suggested use: One to three capsules per day or as directed by your Health Care Practitioner. This product contains no yeast, wheat, corn, soy, salt, sugar, dairy product or artificial coloring, flavorings or preservatives.
Ultimate E.F.A.
Essential Fatty Acid Supplement
Each Capsule Contains:

Organic Flax Oil 830mg*
Essential Fatty Acids (EFA)
Organic Borage Seed Oil 170mg*
Average Analysis
Gamma Linolenic Acid (GLA) 40mg*
Alpha Linolenic Acid (Omega 3) 455mg*
Linolenic Acid (Omega 6) 200mg*
Oleic Acid (Omega 9) 185mg*
Beta Carotene 200IU*
Vitamin E (mixed tocopherols) 0.7IU*
Goes Well With:
Members Wholesale Price $18.00
Click To Order